GrannySlappers.co.uk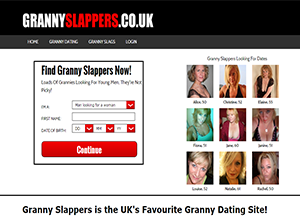 I really liked the GrannySlappers.co.uk website – it was simple, to the point, and looked genuine enough.
I like to think I've tried enough of these Granny dating websites to know which ones are a scam and this one just had something quite elegant about it.
Registration
No email authentication process here, which didn't impress me much. The overall registration process was simple enough however, and only took about thirty seconds from start to finish. You don't need to fill out a lengthy profile page before you go hunting around the site, which I like, so you are basically trying it before you commit yourself to actually using it.
After a few minutes of browsing around the site, I decided I would take a closer look and at this point, I built a picture-perfect profile page… Or at least I hope I did!
Ease of Use
You have a lot of options open to you and it borders on making things a bit too complicated. You can see the most viewed people of the day, as well as users that are online now. This helps you to figure out your competition, and see whether or not your local matches are proving popular. It also helps you to find active profiles. You'll be amazed at how many people sign up, browse for a few minutes, and then never use the site again. Their profiles still come up in matches, and messages from potential admirers are ignored for days, weeks, and sometimes even months.
Selection of Grannies
There is a varied and impressive selection of women, although I didn't like the fact younger girls were constantly being pushed at me. If I'm looking for a Granny to bang, why would I want to date a 21 year old girl? Especially being 30 myself.
At the moment, the most viewed singles on GrannySlappers.co.uk are 27, 28, 21, 35, 34, and 25 years old. That's hardly the Granny-banging experience I was hoping for.
Value for Money
£22.95 will get you a one-month upgraded membership, which is pretty pricey compared to some of the others I review on this site. You can make things cheaper by buying a year upfront (£12.50 per month) but I didn't like the website enough to commit to long-term use. For a start, you're not paying for a Granny dating service, you're paying for a generic dating site, and you can get much better ones for free.
Highlights
*Easy to use, simple looking website
*Easy and quick registration
Lowlights:
*No email authentication – more chance of fake profiles
*Too expensive
*Too many younger members, not enough actual Grannies
*Star rating: 3.5/5*
I didn't mind the GrannySlappers.co.uk website but in my opinion, there just weren't enough Granny slappers for my liking! With one older, more mature woman out of every ten that messaged me, I didn't see the point. I'm not paying for a service I'm not receiving, and I didn't upgrade my membership.
Website: GrannySlappers.co.uk