Granny-Date.com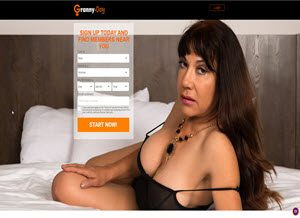 I was quite impressed by this website, and it actually looked like one I could get along with. The sexy Granny on the home page was the kind of woman I would have happily taken to bed, and the site itself seemed sophisticated and upper-class.
Maybe I'd have better luck here than I did with other websites such as GoGranny.co.uk.
Registration
I filled out the appropriate answers – email, first name, date of birth, city, etc. You'll need to activate the account through a link sent to your email, and although this seems a bit fussy, it's actually to protect you.
Once you're in, you fill out a 'ice-breaker' section about yourself, and also a bigger section, plus another box on who / what you are looking for. I like the personal touch without multiple-choice or tick-box answers, and I liked the fact you could write specifically what you're looking for.
Ease of Use
What is important to you? Do you want a hot Granny local to you, or would you be willing to travel? Is it important that she is curvy? Or thin? Is eye colour important? Or their income? What if they smoke?
The search specifics are plentiful, so you have more chance to get your hands on that one golden ticket; that one super hot fantasy-ticker.
The website itself is easy to use, and seems to be the standard template set out by most alternative dating sites. It wasn't complicated, put it that way.
Selection of Grannies
There weren't many younger women on Granny-Date.com, which I liked. There are too many websites, such as GoGranny.co.uk, that have many young members. What's the point of signing up to a Granny dating website if you're going to meet and screw a 21 year old?
There were quite a few profiles on the site, although not as many as others I've tried, although after a couple of weeks of using it, the messages seemed to dwindle. This is a website that you might make a good first impression on, but once you've been on there for a few weeks, no new Granny members seem to materialise.
The more specific you are with your location settings, the fewer members there are too, I have noticed.
Value for Money
If you sign up for a year, you'll be paying just under £15 a month for your membership, which isn't bad.
However, on a month-by-month basis (which is how I prefer to roll), you're looking at almost £30 a month which is quite steep. This is especially the case when you consider it has no better benefits than other, cheaper Granny dating websites.
Highlights
*Easy to use website
*Great search specifics
Lowlights:
*Not enough members
*Messages dwindle after a few weeks
*Not enough women willing to actually meet up
*Star rating: 3/5*
Granny-Date.com isn't a bad website, but it is definitely not one of the best. It could do with having a few members, and being a bit cheaper. In the current industry where better websites exist, this one just doesn't live up to standards.
Website: Granny-Date.com