GoGranny.co.uk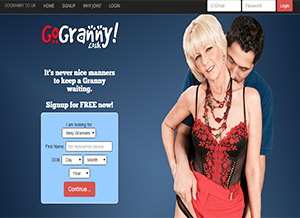 "It's never nice manners to keep a Granny waiting…"
That's the alluring line on the home page of this website, and with the saucy picture by the side of it, it would be easy to get carried away on GoGranny.co.uk.
Compatible with desktops, phones and tablets, it's a website I thought I could use 'on the go', finding women in my area (I travel regularly for work) around the UK to spend indulgent nights with.
Let me first start by saying that didn't happen.
Registration
Premium membership is 100% free for women on GoGranny.co.uk, and the site states that there are thousands of them waiting for you. I went through the signup process and pressed the 'Next' button, where I was sent to a page that told me I had a 'problem', and I needed to fill in some additional fields. Hmmm.
I entered the same details again, thinking it was a mistake of my own, and it took a further two attempts before I was actually into the site, and the first thing that popped up was an ad requesting me to sign up for a membership.
No thanks, I like to try before I buy.
Ease of Use
You have many search specifics to pick from, which is always good if you're looking for something specific. Photo? Build? Ethnic origin? Videos? Height? Hair length? Some of the features seem picky to me, but it's always good to have options.
You can see the initial photo on their page, but you need to upgrade to premium membership if you want more, and you can take a peek at what they've written on their page, but you'll need to upgrade in order to contact them.
Its pretty standard stuff but at least you can try before you buy.
The website doesn't look great and with the blue / red background and the red writing, it was difficult to read some of the text. Plus, I'm pretty sure the colour scheme gave me a headache. I didn't use the site for long.
Selection of Grannies
There is a decent selection of women on the website, but they range from about 20 right up to 120. I'm not really sure why a Granny dating website would have 20 year old ladies on it, and that frustrated me as it seemed to be younger girls were all I could find. I had a hard time finding an actual Granny to bang.
Value for Money
You'll be paying £31.45 for a month's membership, which is extortionate when compared to others. The benefits don't appear any better than others, such as HotGrannyDating.co.uk, and I honestly couldn't really tell what I was paying for.
No value for money here.
Highlights
(It should be lowlights…)
*Extortionate membership fee
*Too many young members
*Good benefits in membership package, but no ladies to use them on
*Star rating: 2/5*
GoGranny.co.uk wasn't a brilliant website, and without not enough actual Granny singles, it wasn't worth my time. It's not bad if you're looking for just sex and you don't care with whom, but for the specific purpose – finding a hot Granny, its useless.