FreeGrannyDating.co.uk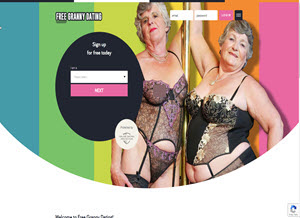 I love getting things for free so when I heard about FreeGrannyDating.co.uk, I figured it was about time I checked it out. I am used to paying anywhere from £10 – £30 a month for other Granny dating websites, so I wondered if I would get the same services from a free site, and I had on the paid ones. On the latter, I seem to have great success with the GOOD sites, so if I had half as much luck, I'd be a pretty lucky guy!

Registration
A pretty simple website with a pretty standard sign-up page, I was concerned to be shown a membership fee page just after I had joined up. Why would I need to pay for a membership on FREEGrannyDating.co.uk?!
Ease of Use
OK, I get what they've done here. It's free to sign up and browse members, but as soon as you want to chat to a horny Granny, or send them a gift, cheeky flirt, wink, video, etc. or even to see other photos, you'll need to pay. So you can completely ignore this, written on their home page: "Welcome to Free Granny Dating. This is Granny Dating but without the price tag. Viewing Granny Personals is totally free. However it will cost to send gifts to other members." Gifts? Yeah right.
There is nothing free about this website at all. Don't be fooled into thinking this site was some kind of special gem because it's not. People can send you messages and winks, which they will do within minutes of being signed into the site, but until you pay for that membership, you can't do a damn thing about it, or even respond!
What a con!
Selection of Grannies
I did have a brief look around the site, but after realising that the site name is a con and there was nothing free about FreeGrannyDating.co.uk, I lost most of my interest. There ARE women on this site, but not many of them are up for chatting, and very few of them will reply to your messages.
After the initial flurry of the first couple of days when I received winks and messages galore, I signed up to the full membership package to see what all the fuss was about, and the incoming notifications promptly stopped… Which I found a tad odd?
As soon as I canceled my subscription and went back down to the basic package again, the incoming notifications picked up again. Funny that…
Value for Money
Considering this site is called FreeGrannyDating.co.uk, it's really not free so as far as value for money goes, you're better off looking elsewhere.
Highlights
*Simple-looking website
*Quick registration
Lowlights:
*Nothing free about it – seriously false advertising
*Not many women looking to respond
*Too many fake notifications that stop when you actually pay the membership fee
*No blog or real information about the site, or how to use it
*Star rating: 1/5*
I'm really annoyed that this FREE Granny dating website wasn't actually free, and I don't think false advertising like that should be allowed. This isn't a membership I will be renewing at any point soon, nor is it a website I will be revisiting!