DateaGranny.co.uk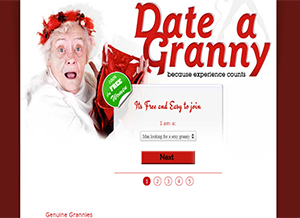 At first sight, DateaGranny.co.uk doesn't look like such a bad Granny dating website at all. I've seen worse. However, when you start to go through the registration process, things start to unravel a little, and you'll see that first appearances can be deceiving…
Registration
The '100% free for women' banner lured me in, and I've had great luck with other websites offering the same service so I decided to give it a shot. I was a 'Man looking for a Sexy Granny' so I picked the appropriate box, and entered the regular details to start using the site. The website states 'Free chat, Free to join, Instant Messaging' as part of the member benefits, but what it fails to mention is that the goodies are not included with the free package and there's not actually much you can do with a free membership.
Ease of Use
It follows the generic layout that most Granny dating websites do, and DateaGranny.co.uk is simple enough to use. You can search by age, sex and/or location, as well as a number of other preferences, and it wasn't difficult to work your way around. There are some pretty obscure search specifics, but it gives you the opportunity to find whatever it is you are looking for.
I didn't like the fact that there were no informative articles on Granny dating on DateaGranny.co.uk – something that good websites seem to offer, although there was a forum you could use. When I had a little peek, it didn't appear as though there were many users online…
Selection of Grannies
There weren't the greatest variety of profiles for my area, and I've managed to find many more profiles local to me on other Granny dating websites. Despite this, I decided to give the site a shot, and I browsed for a little while. There seemed to be a lot of users minus a profile picture, which does annoy me, and although I think most of the members were genuine, and I didn't happen to fall prey to what could have been fake profiles, I didn't really find the selection of users that appealing.
Value for Money
I didn't really think this site offered value for money, considering you'll pay £19.95 per month to message a limited number of users, most of which weren't that appealing anyway. After having some questions about signing up, I tried to get in contact with their customer service department and got nowhere… You're definitely not paying £19.95 per month for a helping hand, that's for sure.
Highlights
(It should be lowlights…)
*Not enough photos on profiles
*Not many appealing members
*Expensive membership fee
*Decent membership benefits, but no appropriate members to actually use them on
*Star rating: 2.5/5*
There were a lot of things I didn't like about DateaGranny.co.uk, and although the set-up of the website isn't bad and it looks pretty good, it doesn't work very well. There just aren't enough profiles with photos,  and the ones you do communicate with don't message back at all.
Not one I'd recommend. There are plenty better!