GrannyDating.co.uk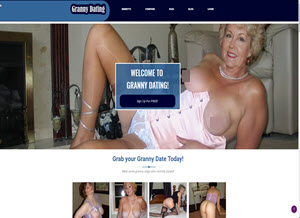 It's a decent looking website, although I'm sure I've seen some of the content on another Granny dating website, and I decided to give it a go after receiving a random email. Apparently someone had spotted my profile, and wanted to send me a message.
In hindsight, I should have realised that there was no profile for any Granny to see on this website, and therefore the email would probably have been a scam, but that day, I signed up anyway. I love a bit of Granny-love, so I'm always interested in checking out new sites.
Registration
The registration process is much like many of the other Granny dating websites you'll have come across, and being 100% free to join, I figured I'd have pretty decent luck. I browsed around the members before filling in my profile page, and very soon, I was receiving more messages than I had time to filter through.
It would seem that I was either very popular on this website, or something was slightly amiss… I should have realised it was the latter.
Ease of Use
I kept receiving messages from super-hot Grannies that I couldn't wait to take home, yet when I replied, I never got a message back from them. I figured this couldn't be the case with ALL of the ladies that had winked at me, or sent me a message, so I got in touch with the GrannyDating.co.uk customer service guys to see if there was a problem. I was informed that the women messaging me were probably cam girls, and were no longer real or live profiles.
Nice… Or not.
Selection of Grannies
After being told that the Grannies messaging me were probably cam girls and not really profiles, I lost interest in GrannyDating.co.uk completely. I couldn't work out which of the members were genuine, and which would be fakes, and seeing as I had responded to about 20 messages in total and not received a single reply from any of them, I decided the best course of action was to delete my account. Which I did.
Value for Money
Considering the site says 100% email authentication, and then sent me ZERO communication about authenticating my profile once I'd registered, I wasn't overly impressed with this Granny dating website. I can honestly say I won't be using the site again. Judging from some of the reviews I have seen on other sites, other people have had similar issues too.
Highlights
*Website looks OK
*Quick registration
Lowlights:
*No email authentication – more chance of fake profiles
*Too many of the members were 'cam girls' and not genuine profiles
*No blog
*Star rating: 2/5*
This is quite a good looking website, but because of the problems highlighted above, it's not one I'll be checking out again at any point soon.