GrannyWoo.com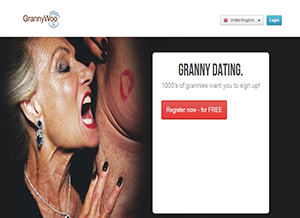 Right, let's be honest about this. GrannyWoo.com is hardly the best name for a Granny dating website is it? I thought the name sounded stupid, and when I landed on the home page, the site didn't disappoint.
I mean really, look at the woman on the front page – there's a lipstick mark and it looks as if she is about to take a bite out of a dude's ass.
Firstly, I don't want my women that 'bite-y' and secondly, the website doesn't even look as if it is finished yet. I couldn't find an FAQ, a Contact Us… In fact, I couldn't find anything!
Registration
I was dubious about signing up to GrannyWoo.com to be honest, especially because there was barely any information about the website anywhere online. It says it's free to sign up, but when I clicked on the 'Register Now' button, it just took me to a completely different adult dating site entirely, and not even one designed for Granny-banging men like myself! Just a run of the mill, average, adult sex website.
That's not what I was looking for. I could have found that by myself!
Ease of Use
Right, well I didn't go any further. I'm not signing up to a Granny dating website that isn't actually a Granny dating website at all. When you click on the 'Login' page, you are given the option to log in to your GrannyWoo.com account, but the Register Now button doesn't work.
A very disappointing experience.
Selection of Grannies
I wouldn't know what the selection of Grannies were like at GrannyWoo.com because I didn't register.
Value for Money
Without being able to sign in or register on GrannyWoo.com, you can't see what the prices are like, or how much it will cost to upgrade your account from the free membership to the paid one.
It is surprising how little information is on this website, and I'm going to be honest, it's not one I would really recommend. Would you part with your hard-earned cash on a website that wasn't even a real website at all?
Think about it!
Highlights
(Should be lowlights!)
*Cannot register – website directs you to a different adult sex contacts website
*No information on the website about the company, or the site itself
*Whole website made me feel very uncomfortable
*Star rating: 0/5*
I wouldn't recommend GrannyWoo.com to anyone. I don't think it's a genuine website, and I also think if you part with your hard earned cash, you're probably going to be in for a bumpy and possibly expensive ride.
Don't waste your time here, there are plenty of other websites that are much, much better! Why not try HotGrannyDating.com instead?
Website: GrannyWoo.com